*Smooth round edges or EXTERNAL corner radii will cause a design to shoot up in price by as much as 5X in worst case scenarios if it can't be turned on a lathe.
Low Price CNC Machined Parts do not have smooth round edges.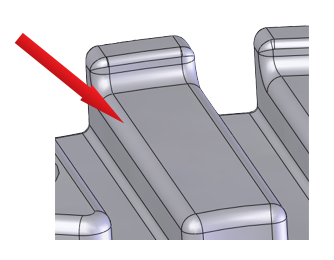 I know, a smooth round edge is an oxymoron, but how else do I describe it? Where there should be an edge, a round surface exists.  When we receive RFQs for designs with external radii on all the edges, we're quickly bummed out. It will be next to impossible to offer a low price for a simple part that should be easy to make.  It also requires a disappointing heart to heart conversation with the designer and we don't want to disappoint.
I agree, they add extremely favorable beauty lines, however explosions should be firing off in the corner of your prolific mind causing uncontrollable eye twitching when you find yourself adding external corner radii purely for cosmetic reasons.
When I have a lot of external corner radii on my own design, it's a sign for me to go back and brainstorm a different form because I'm overcompensating for the lack of intrinsic grace.
Product design is an art intertwined with engineering and manufacturing knowledge.  When it comes to external corner radii? Seriously, get rid of them all if you can and focus on your lines, your form, your part as a whole. You can always add them back in at the tail end of your development process if needed.
So a good rule of thumb is to use the radius feature tool in your CAD platform after the basic design is finished and not include them in sketch mode. If you create them in sketch mode, removing them will most likely cause broken links, errors and waste a whole of time fixing the model.  Remember cheap and easy dominates the workforce? Everything about rounding the corners on edges does the exact opposite, from design to manufacturing.
The only time it makes absolute sense is when plastic injection molding, die-cast and zinc-cast is to be used right?  We all know this, but this is where we can screw the pooch too.
Designing for the production process from the beginning is dangerous.
I've made this mistake over and over again and I am still ashamed.  It's when we design a part for the production process but spend the better part of a year making parts in the prototype/test/pre-production phases. In those phases, we never invest in tooling for the end-process right?
If we follow the 3 Axioms of DFM, specifically Axiom 3, then we can save thousands of dollars, hundreds of hours of frustration and continue marching that path of cheap and easy to dominate the workplace.
DFM Axiom 3:  Counter-Intuitively, do not design solely for the end process up front. It creates chaos. Huh? Yes, DFM (Design For Manufacturability) is also dependent upon which phase of the project you are in. For example, the statistical probability of your initial design hitting production is very, very low.  If the end process is plastic injection molding and you embrace the DFM way to design your part 100% for injection molding…you will have designed yourself into a manufacturing corner.

I've made the mistake way to many times designing a plastic injection molded part, that was easy to 3D print to prove the concept, but then a nightmare to be CNC machined when it came time for true mechanical testing or in the quantities of 100s when we needed excellent materials and finishes for demo's and couldn't spend the money on the tooling for the molds.

Designing for the end process up front creates chaos and unnecessary challenges. Don't do that. Identify the process you intend to use at each phase of the development, and seriously…tailor your design to it.
What's the General Design Rules for adding round corners to edges?
If the edge can't be sharp for handling and safety reasons, consider alternatives like chamfers and ask yourself, "Where am I in the development process?"  "Are we making 5 prototypes and it doesn't matter?" or "Are these prototypes for investors and they have to be the best-ever?" or "Are these 200 production parts and I need the lowest price I can find?"
Answers to these question are the guide to creating EXTERNAL radii for cosmetic reasons or not.  But really one should do everything they can not to include them because it adds so much cost and time.
The best alternative is to leave a sharp corner.

The second best alternative is to make a chamfer.

And last but not least, if you decide to sin, and add a a radii to your edges, 

at least make them all the same size!
Here's a helpful hint: Use configurations in your CAD package.  In Solidworks it's easy to create multiple configurations for each process.  I do it all the time.   One configuration is for CNC and employs chamfers and edges.  Another configuration is used for the plastic injection molding or 3d printing, employs corner radii everywhere, drafts, thinner walls and snap fits. Another configuration optimized for production is mandatory; configurations are such a blessing, try it.
Example of Costs vs. Corner radii
This part here was originally submitted with external corner radii to break the sharp edges. In quantities of 100, it cost $375, $235 with chamfers and with edges an appealing $170 ea.  That's $17,000 in savings you could show your boss.
Why?
This part is very cheap and easy to make with neither corner radii or chamfers. The first two ops are turned on a CNC lathe very quickly for the front/back profiles, bores and spline; easy breezy.  Then the third op cuts the profile and adds the countersinks.  Done. It's a $170 part at quantities of 100.
But to add chamfers or radii, it requires additional ops to run the profiles of the edges for both the top and bottom sides.  So an extra operation is added to flip the part over, plus the time to trace the edges with a chamfer tool.  The run time to chamfer isn't that bad and can be done quickly with the right sized tool, so it's a $65 adder per part.
External Radii? Turns this part into a financial disaster at $375. All the corner radii will have to be 3D interpolated with a ball end mill and that will take forever to achieve a nice finish that doesn't require extra man hours of hand finishing.
How does corner radii actually affect the CNC process?
External radii require the tool path to trace every edge with a special tool multiple times; runtime skyrockets and machine shops charge by the hour.

It's all about time to make the part. There is an extra tool change that increases set-up time and run time.

If there are 1.5mm, 3mm and a 5 mm radii to blend all the corners…then it's triple the cost of tools and the time for tool changes (15 seconds) a tool change.

Often times, these tools don't fit in tight spaces, so it may be impossible to achieve the external radius and now you have to go back and redesign your part for the process.

Corner radius CNC tools really only work best when tracing in a flat plane.
In summary, the phase of development dictates the process of manufacturing and whether to add external radii or not.  Try to use chamfers if a sharp edge isn't desired first and eliminate them if you can get away with it.  And lastly, make sure you show your superiors of your wise DFM decisions and track the savings.  Quantify your value and share. Employers are looking for value in their employees, this is a way to show it with some actual large dollar signs attached to it!