Whether you are an engineer or a project manager or maybe the CTO of your company?  Your true purpose that will reward you more than you can ever imagine, is to not just solve problems, your purpose is to save production costs, to figure out how to make it cheap and easy.  
The math behind it is simple.   There's plenty of research and papers to read.  Don't waste your time. It's simple. 85% of the costs incurred throughout the life of a project happen during production, which is the last phase. However, those costs are dictated by the design concept, engineering, manufacturability and planning during the first 15% of the project (first phase).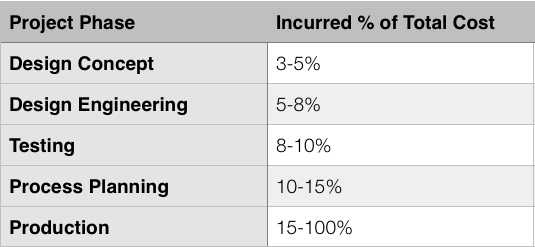 Yep, don't think just because you started a new project, your choices don't really matter. While you are noodling around in CAD, evangelizing your design and not making sure it is cheap and easy to make, you are tragically setting up your employer to have to sell whatever it is you are working at, at a higher price to make margin, which cause the business to be less competitive and your value in the company is bearish now.
Don't do it. Employ solid DFM (Design for Manufacturability) best practices from the beginning. Your purpose is to create solutions that are cheap and easy to manifest regardless of the stage of the project.  But like the research says, don't wait until it's too late…